Now that your racing season is nearly over if you are anything like me, you are already mentally preparing for next year. You are thinking about which races you want to do and what new gear is going to help you reach those new PRs. I can tell you now that one piece of gear that you are definitely going to want to add to your list is the new High Desert Drop Bags.
High Desert contacted us in late summer and asked us to test and review their new line of drop bags for them. Testing an item like this is a long process since you really need races that offer drop bag options and distances where the need would actually put the bags to good use. Well, I can tell you that after a healthy Fall race season we were able to put them through their paces and now offer up this review.
First off, you might be asking yourselves why you need a race-specific drop bag, your duffel bag, race goodie bag, or even a kitchen garbage sack have always been good enough. What sets High Desert apart from the other options is that they seem to be just the perfect size to fit your aid station needs. It's also not awesome to draw all over your duffel bag in permanent marker and more often than not duct tape won't stick to it. More important is the ability to recognize and get to your drop bag easily. With bright colors and a unique square, flat size it makes finding your bags a ton easier.
High Desert offers two sizes: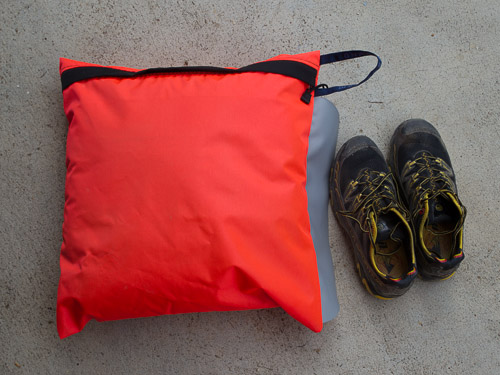 The Dirt Bag $20- this is the smaller of the two bags. At 18.75″ x 19.5″ it is still plenty big to fit a pair of shoes, socks, extra shirt, plus gels and other smaller essentials. It offers a 3 inch wide ID panel that runs the length of the bag, allowing you to place a strip of duct tape on it to write your racer details. What's most awesome about this is that you can switch it out each race, the tape doesn't come off on its own, and it is easily visible to aid station workers or crew members. The bag also has a #8 zipper running the full length of the bag, allowing for easy access and a nice carrying loop. The Dirt Bag is even Western States "approved".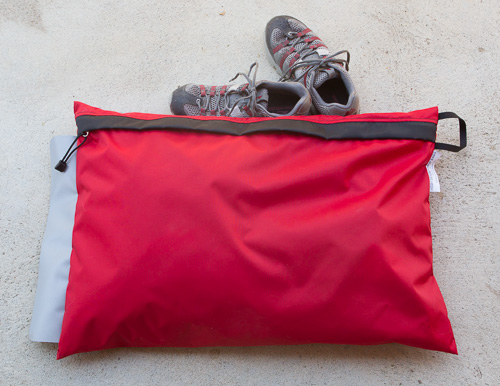 The Ultra Drop Bag $25-This is the big brother to the Dirt Bag, with dimensions of 28.5 in × 19.5 in × 1.5 in. It offers all of the same bells and whistles as the Dirt Bag, just bigger. There's a good chance you could even fit a pacer inside. This bag, like it's smaller brother is made of 400 denier nylon packcloth, so it will hold up to weather, dirt, or whatever else you can throw at it.
How our testers put it to use
Like I said earlier, to test the bags you need a race that would put them to the test. How does the Wasatch 100 sound? Tough enough? I thought so. I used both sizes of High Desert drop bag – one at Upper Big Water aid station (mile 61) and Brighton Aid station (aka, the Morgue, mile 75). Since I don't use a crew these bags were invaluable. In one I had a change of insoles, extra socks, full night gear (it gets cold on that course in September), a large ziplock full of gels and snacks, and other essentials…and that was in the Dirt Bag. One of the great uses of this bag was being able to clean my feet off and put my fresh toes on a clean drop bag instead of the dirt or asphalt. At Brighton aid station I had a set of trekking poles, extra shoes, more socks, and snacks. I maybe had the bag half full. Since I had a fantastic pacer through both of these sections he can attest to how much easier it was to find my bags because they stood out from all the others.
After the race, it was easy to locate them at the finish line, pull my stuff out, tear my race tape off, and store them for my next outing. I can tell you now these are the best drop bag options on the market. Make sure you take a spin through the Testimonials on their site and definitely plan on adding them to your race gear for next year.
For more information go to their site – highdesertdropbags.com