New Balance has been an industry leader in many aspects of the trail running market, but probably even more so in the low-profile trail running shoes. Thanks, in part, to one Anton Krupicka and his fairly amazing trail and ultra prowess, his presence and insight into the development of the New Balance line has pushed their models to the upper limits of what a trail running shoe can do. And the Minimus 1010v2 likely leads the way.
The NB Minimus 1010 v2 ($110) is a fully cushioned trail running shoe, offering a minimalist feel, but with a more traditional structure under foot. It offers a 4mm drop from heel to toe, beefier Vibram outsole for better tracking, all built on their NL-1 last (standard heel, lower instep, and a wider forefoot). With a no-sew material application and NBs Rock Stop plate, you can bet you'll get a durable shoe with plenty of protection. Best of all, the shoe weighs in at a miniscule 8.5oz (size 9.5 mens).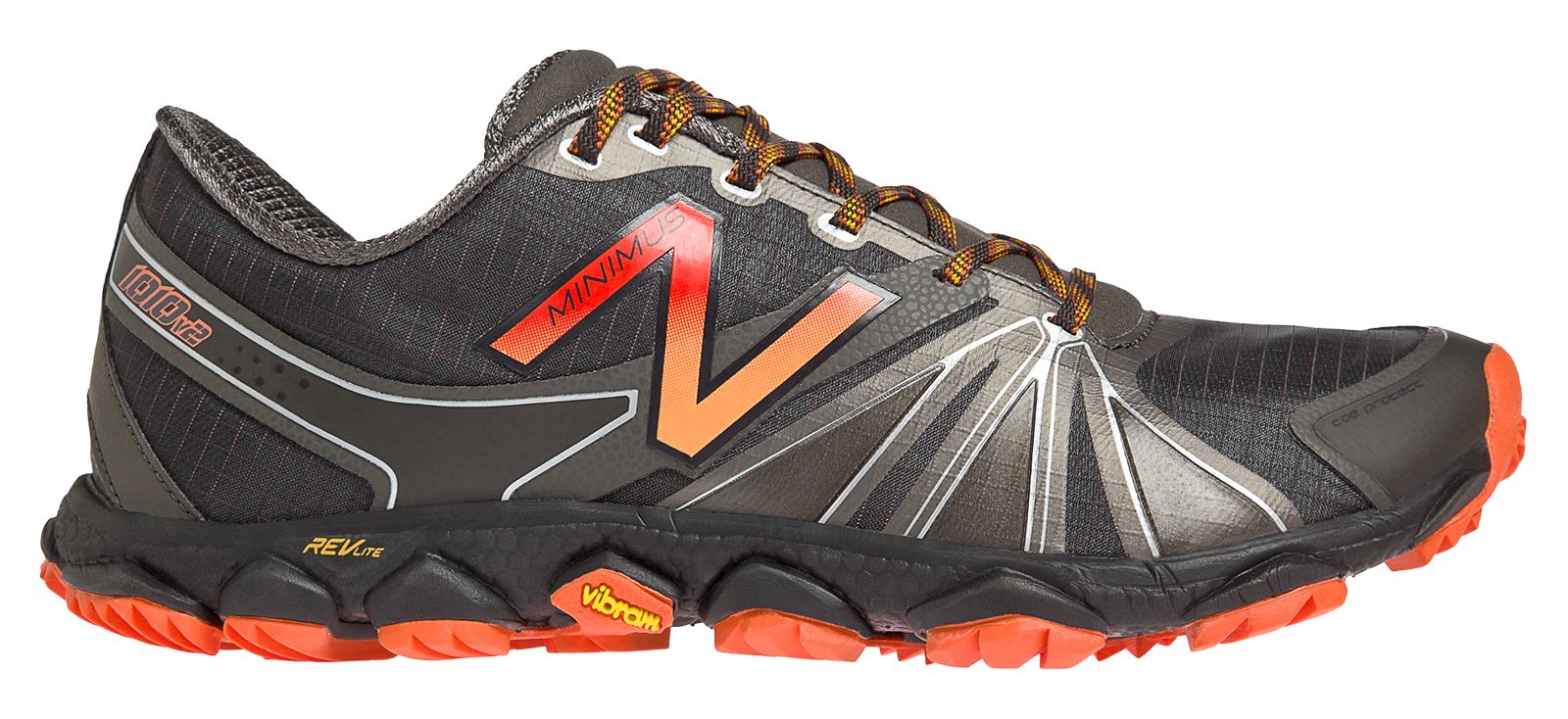 We put the NB Minimus 1010v2 on several of our testers and had them run in the shoe for 5 weeks, putting in a range from 50 to 120 miles on differing trail conditions and locations. The responses were similar almost across the board and the overall opinions were positive.
Below is a detailed, technical review of how the shoe fit and performed. Note that responses were from both men and women who ran in the shoe in different locations across the country and on considerably different trail conditions, allowing for a well-rounded test of the performance and fit of the shoe. Scores were given from 1-5. In many cases a 3 represented the best possible fit for the shoe as it implied that it was neither one nor the other end of the spectrum.

Heel Fit  – 3.7
Note: a score of 3 infers the perfect fit.
The main variation with how the heel fit came between the genders. For the men it seemed the fit was nearly perfect, even when sizing ranged from a 9.5 to 12.
On the other hand, most of our women testers felt that the heel fit a little loose, but wasn't uncomfortable.
For women this might mean a slightly thicker sock, something men might not need to worry about when wearing the shoe.

"Heel fit is snug, yet comfortable." – Matt
Toe Box Fit – 2.7
Note: a score of 3 infers the perfect fit.
We looked at not only the width of the shoe, but the depth of the toe box.
Almost exactly the opposite of the heel fit, the variation between opinions of how the toe box felt was that our women thought it was nearly perfect, where our men found it to be slightly restricting, but not uncomfortable.
"Looked narrow, but felt ok once on my foot."
 – Missy
"Good width as so not to restrict." – Emily
"Toe box was fairly comfortable. I seem to get the same light rubbing on my pinky toe as I have with other NB shoes." – Matt
Tread Durability – 4.3
Note: the best possible score that could be given for this category is a 5.
With testers in multiple locations we were really able to put this category to the test. This shoe was worn on buff Oregon trails, up sheer rock faces in Colorado, and on the sharp, rocky trails of the Utah Wasatch Mountains. Tester opinions across the board were very favorable.
"Tread seems great, good traction." –
Emily
"Traction is excellent. Durability has been very good. Due to the design of the outsole I did have one lug nearly tear off while running through rugged terrain. I simply let it hang there over another 80 or so miles, and it remarkably hasn't come off more and I have not seen issues with any other parts of the shoe, so it seems to have been an anomaly." – Matt
Comfort and Cushion – 2.3 
Note: a score of 3 infers the perfect amount of cushion.
Opinions varied regarding comfort. The shoe, with its minimal profile, is remarkably stiff, likely due to the harder outsole and the rock place. On the buff trails of Oregon and parts of Colorado this won't pose a problem, but on rockier terrain it could cause some slight discomfort.
"The shoe is low profile and very stiff, but otherwise pretty comfortable. The shoe deals with potential attacks from rocks by blocking them rather than absorbing them. This can be a bit tricky on really technical terrain where you are prone to deflect off of rocks. Knowing how the shoe responds will help you respond with the appropriate foot placement." – Matt

"The foot pods on the tread design were very uncomfortable on the bottom of my foot when I was on harder surfaces.  If I was on soft trails they did not bother me." – Missy
"My feet inexplicably were hurting in this shoe more than others." – Emily
Overall Opinions
Testers really speak well of this shoe. While the NB Minimus 1010v2 appears to be part of the minimalist community of shoes, it seems to drive and wear more like a traditional running shoe. If you want a light, comfortable shoe, with plenty of protection under foot this might just be the right shoe for you.
"The upper was very comfortable and snug.  Despite the narrow toe box, my toes did not feel cramped.  I have a very low-volume foot, so the shoe fit my foot nicely." – Missy
"Great looking shoe. While I didn't initially fall in love with this shoe on rocky trails, what I have found with its aggressive tread and deep outsole pockets, is that they are amazing in the snow! The snow allows for some forgiveness in the stiff sole, and you come away with a light, low profile, super grippy, stylin' winter shoe." – Matt
To learn more or order yours online, visit New balance at: New Balance Minimus 1010v2